Pursuit of Hope You Can Help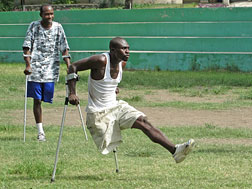 A Story of Overcoming in the Making
Pursuit of Hope is a documentary being produced about the Haitian National Amputee Football Team. This group of amazing men have overcome not only physical anguish, but also emotional turmoil and cultural rejection to find a place among the top disabled soccer players in the world.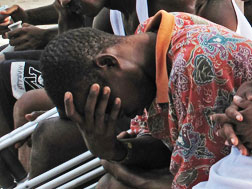 Great Obstacles
As you may be aware, those born without limbs in Haiti are considered "cursed" and are often discarded by their parents. Those who suffer an injury or illness resulting in the loss of a limb become outcasts in the Haitian society, and they are often the victims of cultural discrimination. As a result, they have few opportunuties for employment, and even the most basic services are often beyond their reach.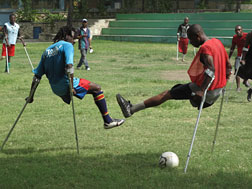 Great Outcomes
The goal for these men is that Haitian society will be changed so that they will be treated like their fellow human beings. But the ultimate outcome is that their story as told through the documentary film will inspire change in other countries where people with disabilities suffer cultural rejection. Theirs is a human rights story that can change the world.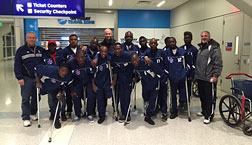 Arrival in Texas for Training
The team arrived at DFW airpost at midnight on November 14. and they will be here through Thanksgiving as they prepare for the World Cup. They are being hosted by FC Dallas and the International Institute of SPORT. While in Texas the team will receive donated medical and dental services, intensive training, and they will appear at several public and private events.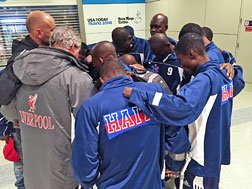 Will You Help?
We have the opportunity, as a community of Americans, to touch the lives of these amazing, courageous men and to help them tell their story to the world. We are now raising funds to send these men to the World Cup with the provisions of food, lodging and transportation, and we are raising funds to produce the documentary film Pursuit of Hope to tell their story. Would you consider a donation to help these amazing men?